As veterinarians, you know first-hand the trust your customers place in you. Pets are a beloved part of the family, and when a pet is sick or hurt they their pet given the best care possible. They want the best treatment at an affordable price, which is why we've created the B-Cure Laser Vet Pro, specifically for veterinarians like you!  
---
Taking Laser Therapy to the Next Level
B-Cure Laser is the first portable, soft-laser device in the world with the healing power equal to a full-sized stationary, expensive soft-laser device. Soft laser therapy is used all over the world, and now the B-Cure Laser Vet Pro is taking laser therapy to the next level with its high efficiency and affordable price. It's light and portable frame make it easy and comfortable to use. Whether you're moving between office rooms or making home visits, the B-Cure Laser Vet Pro is the perfect solution for your treatment needs.
---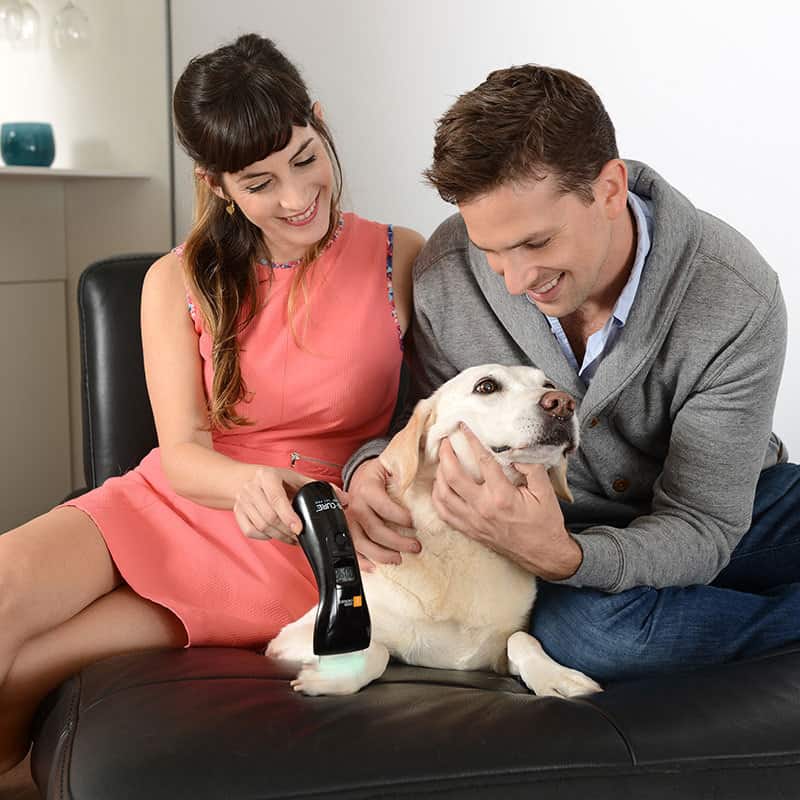 ---
B-Cure Laser Vet Pro at Work
B-Cure Laser is a low-level laser beam with a range of 1-1,000 megawatts. It has one defined wavelength – which moves in one phase and direction – affecting the skin's surface while
inducing the healing process of wounds and skin problems. The laser simultaneously penetrates the skin without heating or hurting it, activating the healing processes in deeper tissues. It stimulates the body's natural healing mechanisms, making it 100% safe for the patient.
The B-cure Laser Vet Pro is so exact that when the laser is absorbed by the body, it pinpoints the ailment and begins working by increasing blood flow, stimulating cellular activity and enhancing intercellular communication mechanisms. This stimulation increases the release of endorphins and production of SOD enzymes that fight inflammation. The result is a reduction of pain, skin renewal, accelerated wound healing and reduced scar tissue formation.  
The Vet Pro works specifically on the following locations and positions on the body:  
Chronic gingivitis, periodontitis, stomatitis

Wobbler syndrome (neck problems)

Back pain

Anal sacs and Fistulas

Hip dysplasia

Cruciate ligaments

Tendon weakness

Pododermatitis

Wound healing, poorly healing wounds and acral lick granuloma

Elbow arthrosis

Chronic otitis

Facial nerve paralysis
---

---
Successful Recoveries
B-Cure Laser Vet Pro is recommended by veterinarians and animal therapists, worldwide, with success stories from around the globe. From cats and dogs to horses, sheep and cows, the Vet Pro has been successful in treating animals of all kinds with various health issues, quickly and safely.
One example is Coco, a two-year old Pinscher who was treated and made a complete recovery with the help of the B-Cure Laser Vet Pro. He was admitted to the Veterinarian Hospital Delphis in Barcelona, Spain under the care of Dr. Joan Cunill with a severe head injury from a traumatic blow.
After Dr. Cunill examined him,  Coco was found to be in a state of stupor, with stiff forelimbs, bilateral nystagmus and unresponsive pupillary reflexes. He was treated against shock, given an IV infusion and hospitalized for 48 hours with no improvement.
It was at that point when Dr. Cunill decided to begin treatment using the B-Cure laser, 2 times a day for 6 minutes. A week later, Coco had made a complete recovery and could walk normally again, all because of the healing power of the B-Cure Laser Vet Pro.
Success stories like Coco's are already pouring in. Start using B-Cure Laser Vet Pro today and begin sharing your successful treatments too!